School Timeline
September 2006 – Construction begins on a new west-end elementary school; the top three proposed names are George Washington Carver Elementary, Rosa Parks Elementary, and Grant Wood Elementary
August 28, 2007– George Washington Carver Elementary School opens
its doors to students under the leadership of Principal Pat Meade as a K-5 three-section school with an enrollment of 416 students and 29 teachers
October 2007 – Carver students and staff select the school mascot, the Carver Cougars, from a design created by student Chantel Schmitt. Other mascot finalists were the Carver Gators and the Carver Pioneers.
March 10, 2008 – School days are extended by 30 minutes until the end of the year to make up some of the nine snow days; last day of school is
June 2 rather than June 10
June 2008 – Cindy Steffens begins as Carver's new principal; Enrollment increased to 435; a section of kindergarten is added
September 2008 – Carver PTG hosts the First Annual Walk-a-thon
May 14, 2009 – Carver's first Camp Read S'more (a tradition that continued through the 2011-12 school year)
June 3, 2009– Carver PTG sponsors the First Annual Family Fun Night
2009-2011 – Carver PTG supports technology with the purchase of twelve Smartboards
2009-2010 – Carver adds a preschool and one section of first grade; Carver Deaf and Hard of Hearing Program begins; enrollment is 497 students
April 2010 – Carver begins the tradition of honoring volunteers with a Volunteer Appreciation Celebration
2010-2011–A second grade and a third grade section are added to Carver's educational program; Carver's Green Team introduces monthly "Mr. Green Habits"; enrollment jumps to 564 students
Spring 2011 – Carver fourth grade student Jack Doyle advances to the Scripps National Spelling Bee and competes in Washington D.C.
2011-2012 – Enrollment climbs to 580 students; Carver recognizes its 5-year anniversary with a week long school-wide celebration held May 14-18, 2012.  See Special Edition 5 year Newsletter
2012-2013 – An additional section of fourth grade is added; Carver's first class of kindergartners graduates from 5th grade
July 2013 – Addition of two classrooms and a storage area are completed
May 2012 – Carver principal Cindy Steffens earns the DSCD's TEAM (Together Educators and Administrators Make it Happen) Award
May 2013– Carver teacher Donna Schmitt is named DCSD's Teacher of the Year
2013-14 Carver institutes cross-grade Community Groups to learn about and celebrate good character; a fifth grade section is added and second grade decreases one section
December 2013 – Carver is awarded $10,000 for Technology from Code.org
2014-2015 – Early dismissals are replaced with a one-hour late start on Fridays for Professional Development; second grade section reinstated; third grade decreases one section
May 28, 2015 – Dedication of soccer field in memory of Carver student Jackson Hohmann
2015-2016 – Third grade section reinstated; fourth grade decreases one section. Carver is recipient of an $18,000 STEM Scale-Up ST Math award on behalf of the Iowa Governor's STEM Advisory Council.
2016-2017 – Carver School celebrates 10th year Anniversary honoring our names sake George Washington Carver with
a special STEM day filled with fun activities (planetarium viewing, rocket launching, video green-screening and robot programming) along with a special STEM night hosted by the University of Dubuque pre-service
teachers.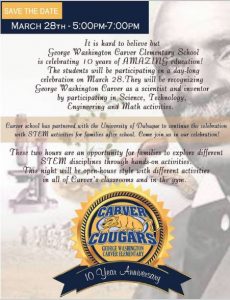 2017-2018 – Joe Maloney begins as Carver's new principal; "It's an AMAZING day to be a Carver Cougar!"  Carver's gym gets a fresh coat of blue paint, and new security video equipment is installed throughout the building.
2018-2019 – 5th grade students Hadyn Phelan and Greta Gammage win the international Wonder League Robotics Competition.  In addition to a $5,000 grand prize, each student received a laptop, robot and t-shirt. Carver school receives a $2000 McElroy grant to purchase Osmo technology.
2019-2020 – Andy Peterson is named the 4th principal at Carver.  Enrollment start the year at 534. Carver's first class of kindergarten students are high school seniors.                                                   
                                                                                                                                                                             Hadyn & Gretta- 2019 Robotics Grand Champions